In a Nutshell
LendingTree is an online marketplace connecting borrowers to a broad network of lenders, and has aided over 55 million loan requests, allowing homebuyers to compare various mortgage loan offers. When you qualify for a loan, you can see the offer immediately and view additional details to help you make a decision. Find out if it's right for you.
pros
Check your credit score and how it affects your offers
One form and information is sent to multiple lenders
Get loan offers within minutes
cons
High number of phone calls and emails
Dealing with lots of lenders vying for your business
Rates shown after entering Social Security numbers
LendingTree at a Glance
| | |
| --- | --- |
| Loan Types | Purchase, refinance, home equity, reverse |
| Featured Loans | FHA, USDA, VA, jumbo, conventional |
| Repayment Terms | 10-,15-, 20-, 30- years fixed-rate, 5/1, 7/1 ARM |
| Down Payment | 0%-20% minimums based on loan type |
| Credit Score | 500+ |
| Suitable For | HELOC with low closing costs |
| Direct Lender or Marketplace | Marketplace |

Who Is LendingTree Suitable for?
LendingTree offers consumers several offers from multiple lenders for:
Busy consumers who want to see several options at a glance
Borrowers with poor credit or unconventional income looking for flexible lenders
HELOC, where you are paid out as needed from your home equity
Since there are hundreds of lenders competing for your business, LendingTree is able to provide a custom-tailored selection of offers to choose from based on your specific criteria. In addition, LendingTree lets you compare different loan terms side by side in order to find a low monthly rate.
The Application Process
The entire application process should take approximately 10 minutes. Go to LendingTree's home page, select the type of loan you want, and complete an online request. If you need help, look for the calculators, a home valuation tool, and tips to help you along the way. You can also contact LendingTree Customer Care by phone with questions.
Knowing your credit score is the first step in securing a loan. LendingTree allows you to check your credit score for free and tells you how it will affect your ability to secure a loan. As a loan broker, LendingTree is a viable option for borrowers with a vast array of credit scores. Since the company is partnered with all types of lenders, you may have a better chance of finding one that works with individuals that have bad, or even limited, credit.

You can apply for several types of mortgages with LendingTree:
Fixed-rate mortgages
Adjustable-rate mortgages
Reverse mortgages
Home equity loans and HELOC
Jumbo loans
FHA loans
VA loans
Within minutes of submitting an application, you'll receive loan offers from several different lenders. If you're not exactly sure where your credit stands or what kind of offers to expect, this will help you wade through lots of options and get an idea of what loan terms you could be receiving. Once you understand how LendingTree works, you can evaluate the quotes you'll receive in the My LendingTree portal to find the right offer for you.
Loan Features
LendingTree does not charge a fee for connecting users with its network of partners, so you will never have to worry about hidden fees for this service.
The company also offers free credit scoring, which can be valuable as you determine your loan options.
By filling out one form, your information is sent to multiple lenders, saving you time. LendingTree has a network of over 350 lenders, creditors, and banks, so you are guaranteed a good offer based on your parameters.
While there is no fee charged to shop for a mortgage loan, you must provide a Social Security number before rates are shown.
You will receive a loan offer from a lender within minutes when you qualify.
LendingTree Highlights:
No user fee
Free credit scoring
One form sent to many lenders
Network of over 350 lenders
Easy-to-use website
Possible loan offer within minutes
Easy to find offer details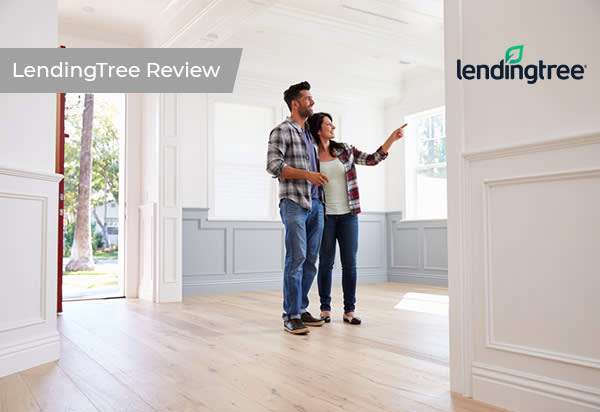 Pros and Cons
Some users complain about the large number of phone calls and emails they've received from lenders almost immediately after filling out the form. Because LendingTree passes your information to lenders, there's no real way to limit this contact. You are agreeing to it when you decide to apply for a mortgage loan.
If you do not want to deal with many lenders vying for your business, a broker like LendingTree might not be a great choice for you. Although LendingTree allows you to compare multiple offers at one time, this may be overwhelming for some.
Rates and Terms —The Bare Basics
Hundreds of lenders competing for your business allows you to choose your terms, based on specific criteria. You decide the amount you want to put down, an APR, and repayment term, and LendingTree sends you offers.
Terms are not set by LendingTree, but by individual lenders based on your criteria.
Repayment Terms
Since LendingTree's network consists of more than 350 partners, there are a wealth of fixed and adjustable terms available. The most common offers you can expect to find are for:
15-year fixed
30-year fixed
5/1 ARM
30-year 5/1 ARM
You can compare the different terms to see how they would impact your monthly rate, lifetime investment, and other factors.
Help & Support
LendingTree offers calculators and tips to help you through the application process. You can also contact LendingTree Customer Care at 1-888-555-8733 with questions.
Summary
If you want to learn more about your credit score and start browsing lenders in an intuitive, user-friendly fashion, LendingTree is a respectable choice. While the number of available loan offers is surprisingly limited for a lender network of this size, they come with very competitive APR and interest rates
LendingTree FAQ
Where can I find my loan offers?
As part of your quote retrieval, you'll be signed up for LendingTree's My LendingTree portal. In the online portal, you'll find individual lenders loan offers there, often in only minutes. As the quotes are added to your account, you'll receive a notification.
What are LendingTree's closing costs?
LendingTree does not charge you any fees. Every lender sets its own fee structure regarding closing costs and the final fees are determined between you and your finalized lenders.
Can I email, mail or fax in my LendingTree application?
LendingTree does not accept any applications outside of it's online form or phone line. This reduces the possibility of errors and unnecessary costs and delays.
What if I have bad credit?
Bad credit is not an obstacle to owning a home with LendingTree. Because it has a range of lenders, borrowers with poor credit will be matched with loan providers who are happy to consider your application.
Physical Address
LendingTree, LLC
11115 Rushmore Drive
Charlotte, NC 28277
USA
LendingTree Visit LendingTree