Today's Mortgage Rates from Amerisave:

Mortgage rates as low as 2.500% APR*
If you pay attention to mortgage rates, you've been hearing about historically low interest rates for years. Rates have been inching downward or bouncing off record lows for more than a decade. Many experts thought interest rates couldn't get any lower, or that they were sure to rise. And yet, they keep dropping.
Right now is perhaps one of the best times to refinance your mortgage because interest rates in the US are at historic lows. The national interest rate is hovering around zero, and it's likely to stay that way through most of 2021 due to the economic effects of the COVID-19 pandemic. While that doesn't mean you'll pay an interest rate of zero, it does mean you could pay a significantly reduced rate.
Refinancing your mortgage and finding low rates during the COVID-19 pandemic. The COVID-19 pandemic upended the US economy, and that's had major ramifications for homeowners thinking about refinancing. First, it has pushed interest rates to all-time lows, even as home values continue to skyrocket. By July this year, home values were up an average of 5.5% compared to 2019. That's great news for homeowners, since it means the ratio of debt you owe on your mortgage to your home's value is shrinking.
In the graph below you can see average interest rates on 30-year fixed rate mortgages in the United States for the past 50 years. As you can see, 2020 marks the most significant downward trend in recent memory.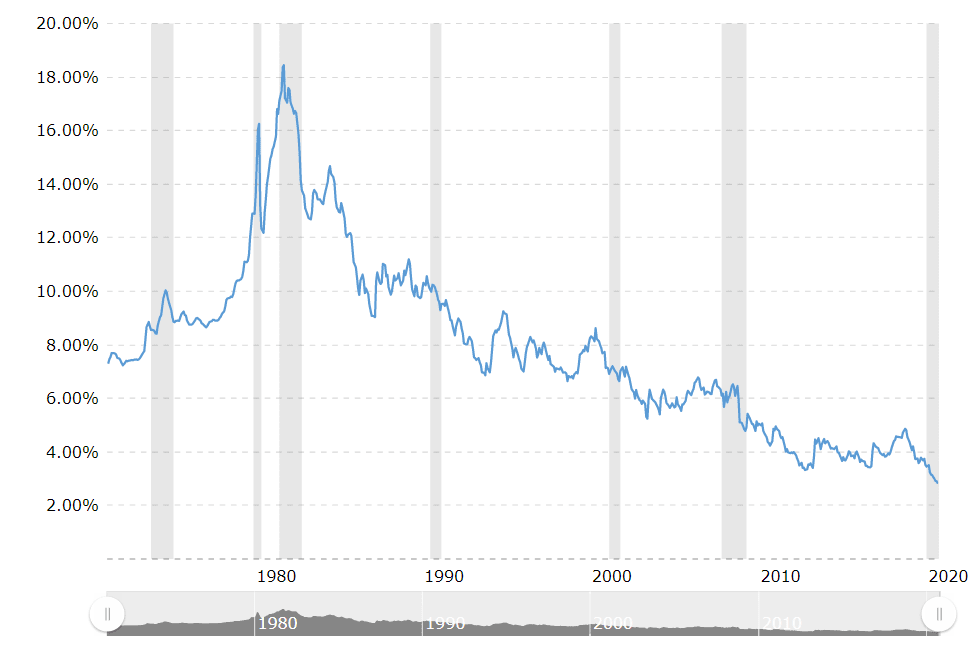 Via: macrotrends.net
Refinancing savings: the numbers speak for themselves
If you are currently paying off a mortgage with a high interest rate, it's time to take advantage of lower rates. Here's why:
Even a small difference in your mortgage rate can save you money. The average mortgage rate on a 30-year fixed-rate mortgage has fallen by 0.97% since October 31, 2019, from 3.78% to 2.81%. That might not sound like much. But if you have a $200,000 mortgage, that difference can mean a savings of approximately $107 per month on your mortgage. Over the life of a 30-year loan, you could save $38,443.
If your current mortgage is 4.5%—a common rate just two years ago—the difference is even more dramatic. Refinancing to a 2.81% rate could save you $190 per month on a $200,000 loan, or $68,586 total over the life of a 30-year loan. Your actual savings will vary depending on the length of time left on your original loan.
You can get market-beating rates by choosing the right lender
Even when rates are historically low, you need to make sure you get your best possible rate when you buy or refinance a home. Lending companies, such as Quicken Loans, AmeriSave and Better.com offer significantly different interest rates based on borrower qualifications, type of loan, and other factors.
It's easy to see why Quicken Loans is American's largest online mortgage lender. Quicken Loans offers a wide range of loan options, delivers award-winning customer support and they promise to use cutting-edge technology to guide borrowers to the best loan product and complete the loan approval process quickly and easily.
AmeriSave is a full-service mortgage lender operating in 49 states and DC. Established in Atlanta in 2002, it has funded 220,000+ homes for a total value of more than $55 billion. AmeriSave is known for offering a quick and straightforward way for potential homeowners and prospective buyers to uncover the loans they need and access funds efficiently, as well as easy online applications with the option of contacting customer support any time you need assistance.
If you're looking for a completely digital mortgage experience, Better could be the lender for you. Thanks to its mostly digital platform, Better is able to bring major savings to their customers. Just input your basic info, and receive relevant loans with the best possible rates. No origination fees, no lenders fees, and no commissions. Log in to your Better account anywhere, anytime to see where you are in the refinancing process.
How do I get started?
The first thing you should do is start comparing lenders. By exploring top online mortgage providers you can ensure you're getting the best possible deal. Make sure you're capitalizing on money savings tips. For example, many lenders offer lower interest rates for shorter-term mortgage loans. For example, the average interest rate on a 15-year loan is 2.32%, compared to the average rate of 2.81% on a 30-year loan. Your mortgage payment will be higher on a 15-year loan because you pay more toward the principal amount every month. However, if you can afford the payments, you'll save on total interest expense and pay off your house in half the time.
Is refinancing worth the hassle?
If mortgage rates have dropped by 0.75% or more since you purchased or last refinanced your home, you have a good credit score and 20% or more equity in your home, and you plan to stay in your home for several years at least, you generally save money by refinancing your home.
Be wary of refinancing your home if you won't live there long enough to recoup the costs of refinancing. And try to avoid increasing the amount of your loan every time you refinance.
Should you refinance with an adjustable rate mortgage?
Another way borrowers try to get a lower mortgage rate is by refinancing with adjustable-rate mortgage (ARMs). Rates on ARMs are usually lower than on fixed-rate loans because lenders can raise rates at the end of the initial period if interest rates rise.
In the current market, however, rates on ARMs are actually higher than on fixed-rate mortgages, averaging 2.88%, vs. fixed-rate mortgages at 2.81%. That makes fixed-rate mortgages potentially a better deal now.
Don't miss your chance to tap into mortgage savings:

Learn more about refinancing your mortgage. Apply today and explore mortgage savings from America's largest online mortgage lender!
Quicken Loans Get Rates
*Advertised rates: Based on a 250K conventional refinance loan on a single family primary residence located in Georgia, 740 FICO score and 80% LTV. 15 Year Fixed Rate/APR includes Discount Points of 1.306% and 30 Year Fixed Rate/APR includes Discount Points of 3.019% . Rates effective 11/01/2020 and are subject to change without notice.