The housing market is sending us conflicting messages nowadays. On one hand, mortgage rates dropping below 3% make it much more lucrative to purchase a house or refinance your mortgage.
On the other hand, with almost half of the US population out of the job market, millions can't afford to pay their monthly payments and turn to forbearance.
With the memory of the sub-prime crisis still fresh on everyone's minds, Americans are wondering where all this is headed.
We've gathered four leading personal finance professionals and mortgage:
Sally Herigstad - a CPA and the author of "Help! I Can't Pay My Bills: Surviving a Financial Crisis"
Roger Wohlner - a veteran financial advisor and the owner of the Chicago Financial Planner blog
Chris Muller - the founder of the Money Mozart financial blog
Lance Cothern - a CPA and the owner of the Money Manifesto blog
We asked them to weigh in on the impact of the current crisis on the housing market, and more importantly - how to make the best out of this situation.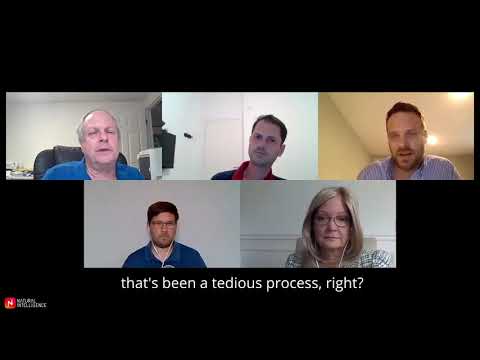 Compare The Top Lenders
Is renovating or moving now a good idea?
Every once in a while, we all seek to change something in our lives. Oftentimes, we'll choose to change our house. But in these turbulent times, deciding to renovate or move to a new house is as much a financial decision as it is a lifestyle change.
"It depends where you think the housing market's going," says Cothern. "If you want to get a more expensive home, you're increasing your risk, if the market goes down, that you would lose more on your house. If you have a $200,000 home now, and you're buying a $300,000 home, and both go down 20%, you're only going to $40,000 on the smaller home, but $60,000 on the bigger home."
However, as he explains, when you're downsizing, it works the exact opposite way: "Say your kids moved out, and you're really looking to move into a smaller home. If you move from a $300,000 home to a $200,000 home, your risk would be much lower if the market went down across the board."
The new work-from-home reality opened new possibilities for moving. You no longer have to worry about commuting to work, and can now have a better value for money: "Now's the time to talk to your employer about potentially working remotely, and then maybe moving somewhere closer to family, or moving somewhere with a lower cost living lower cost of living, where you can still manage as in the past," says Herigstad.
However, there's a caveat. According to Lance, "People who think that they're going to move someplace smaller, someplace cheaper, there has to be a large difference in the price of the new house to make that worthwhile. People underestimate how much it costs: foreclosing costs, real-estate taxes, commissions, the cost of moving, you're going to need different furniture. If you can't move to a house that's way cheaper, just stay put."
"Renovating is also a good option if you love your current home," says Cothern, "If you can renovate and be happy where you're at, if you're just sick of looking at your tired kitchen, and renovating it will increase your value, by all means: renovate your kitchen. I think it's a lower risk. You don't have to worry about qualifying for a mortgage again," he added.
"But if you need to be in a different school district, or you need to add two bedrooms because you just had twins, moving's pretty much the only thing that's going to get that done," he continued.
One of the most common ways to finance a renovation is by taking a home equity loan (reverse mortgage). Some leading lenders offering mortgage purchase and refinancing, such as Quicken, LendingTree and Better, also offer home equity loans.
Closing a mortgage online
One of the biggest winners from this recent housing boom was Quicken Loans. "73% of Quicken's originations last year (2019) were from refinances, so the other 27% were from purchases. Obviously the pandemic has caused rates to drop, increasing the demand for refinancing further. Quicken has profited handsomely, and it's put them on a stage to run their IPO," says Muller. "I think non-banks might be looking at this as an opportunity to prioritize more digital lending," he adds.
Another issue that Quicken is championing, along with another leading lender, Better Mortgage, is the e-closing - a fully virtual mortgage closing.
"I actually closed a mortgage with them [Quicken] earlier this year (2020), and I did have to go to the title office to close," Says Herigstad. "But, I know more states are getting to the point where they're starting to allow digital notaries, and I think once that becomes more common across all 50 states, that will move to where you can do it completely online. But, I think state laws are probably preventing that in somes cases right now."
What's the price of forbearance
Going into forbearance on your mortgage can seem like a no-brainer when you lose your job and you're struggling to make ends meet. But what are the repercussions?
Wohlner believes that before taking this decision, one must educate himself about what comes next. "Once the forbearance ends, or they get off forbearance, however that works, if they're stuck with a huge lump-sum payment, they're in just as bad a shape or worse as they were before, and God forbid they might actually lose their home."
He also explains that on the national level this practice may hurt the entire mortgage market if we're headed towards mass unemployment, a long recession, etc."Will this snowball, will we have another financial crisis? Will it be hard to get mortgages, which could put an end to the housing boom?"
Are we in a housing bubble?
Fixed mortgage rates have hit another all-time low for the eighth time in 2020, and it seems that we still haven't seen the end of it. Despite expectations, homeownership actually grew during the crisis, and so did the prices in most areas.
"It's surprising because, here in this area, our main problem is that there are not enough houses to buy—and that's crazy. I expected things to burst or simmer down by now. I thought, "What a terrible time it must be to sell," and no—they can't keep inventory," says Herigstad.
But according to her, this boom may also be perilous for eager buyers. "Well, I think that I would be very cautious about buying anything right now in a very hot market. Some things are going for above their asking prices still. Buy in an area that's not the most inflated."