Finding a mortgage lender that works well with first-time home buyers is an important step toward getting your new home. But first, check out the qualifications for a first-time home buyer, according to the U.S. Department of Housing and Urban Development (HUD).
Am I eligible for a first-time buyer mortgage?
You may qualify for government first-time home buyer programs, even if you have owned or co-owned a home in the past.
HUD defines a first-time home buyer as someone who has not had ownership in a principal residence for at least three years. You may also qualify as a first-time home buyer in certain other situations; for example, when your marital or support situation has changed.
How to Choose a Lender for First-Time Home Buyers
If you're a first-time home buyer, it's important to find a lender that is willing to work with your unique challenges and give you the rate and terms that work for you. Look for a lender that offers the following:
1. Good customer support
A lender that will help you through the mortgage application and funding process, and that is available to answer questions when you need it, is especially important when you're buying your first home.
2. Willingness to work with first-time buyers
Not all lenders have the same underwriting criteria or work with all programs for first-time home buyers.
3. Competitive rates and fees
Even a small difference in your interest rate adds up over the life of your loan. Loan origination fees and other closing costs vary by lender, so shop carefully.
Mortgage Lenders for First-Time Home Buyers
These top lenders may be right for you if you are a first-time home buyer: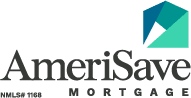 You can get a pre-approved, accurate rate online from AmeriSave in a few minutes, without providing your Social Security number. Complete and submit all forms online, or call one of their licensed Loan Originators. You can compare loans with no obligation or commitment, and no hidden fees.

AmeriSave Mortgage View Rates

Apply for FHA, USDA, VA, and other loans through the largest online mortgage lender in the country. Their application process is streamlined, and you can get mortgage and general financial advice on their website.
Quicken Loans View Rates
Better offers loans with no origination or lender fees, which can save you a significant amount in closing costs. Innovative technology helps them give fast approvals with far fewer hurdles. You'll be connected to a loan officer who guides you through the mortgage application process.
View Rates
How Do First-Time Buyer Mortgages Work?
Federal and state governments promote home ownership, long seen as important to financial stability and success, through various programs:
Federal Housing Administration (FHA) Loans
The FHA, which is part of HUD, insures these loans. Because the government assumes the risk, lenders can offer low down payments, low closing costs, and relaxed lending criteria. As a first-time home buyer, your down payment can be as low as 3.5% of the purchase price, and you may be able to buy a 1-4 unit property.
U.S. Department of Agriculture (USDA) Loans
USDA loans are available to some rural and suburban home buyers. They are the only mainstream loans available to borrowers who have not served in the military that does not require a down payment. According to the USDA website, their rates are often a better deal than FHA or conventional loans.
U.S. Department of Veterans Affairs (VA) Loans
If you are a service member, veteran, or surviving spouse, a VA loan can help you get into a home. VA loans offer full financing, and unlike FHA loans, they do not require PMI payments.
Fannie Mae
HomePath by Fannie Mae offers the ReadyBuyer program's interactive, online course for first-time home buyers. When you make an offer on a HomePath property, you may receive up to 3% in closing cost assistance. Fannie Mae also offers HomeReady mortgage, which allows first-time and repeat home buyers to purchase a home with a down payment as low as 3% of the purchase price.
Good Neighbor Next Door (formerly known as Teacher/Officer/Firefighter Next Door)
This special HUD home buying program is designed to help law enforcement officers, teachers (pre-Kindergarten through 12th grade), firefighters, and emergency medical technicians buy a home in certain revitalization areas. You must commit to living in the property for 36 months. If you qualify, you may receive a discount of 50% from the list price of the home.
Assistance programs offered by your state
The federal government allocates funding for first-time home buyer programs, to states and local governments, who distribute funding to residents. You may be required to attend a HUD-approved Housing Counseling class to receive assistance.
What is the best mortgage rate for first-time buyers?
There are a few ways to get a lower rate on a first-time buyer loan. Follow these tips:
Check your credit profile
You should always see your credit score and credit report before your potential creditors do. You can get a free credit report from each of the three major credit bureaus once every 12 months.
Build a better credit profile
You may need to pay down debt, build a record of steady employment, or have reporting errors removed from your credit history. The better your credit profile, the lower the interest rates you'll be offered.
Save for a down payment
Unless you qualify for a VA or USDA loan, you generally need a down payment to buy a home. The bigger your down payment, the more money you save on interest and other expenses.
Don't make big financial moves
You'll need to show lenders a steady work history, so don't change jobs right before you apply for a mortgage. You should also avoid making major purchases, such as a car, until after your loan closes.
Choose the best length for your mortgage loan
Shorter-term loans, such as 15-year mortgages, often have lower interest rates. Your monthly payment will be higher with a 15-year loan vs. a 30-year loan, but you'll pay far less total interest expense over the life of your loan.
Decide whether to pay discount points
Discount points are fees you pay to reduce your mortgage interest rate. The more discount points you pay, the lower your rate. If you expect to stay in your home for at least several years, discount points can be a good deal. Otherwise, choose a loan without discount points.
Shop around
Choosing a home mortgage is one of the most important financial decisions you will make. Compare rates and fees to make sure you're getting a great deal. Don't be afraid to ask potential lenders questions before you commit to a loan.
Lock in your rate
If you lock in a rate when you apply for a mortgage, you won't be surprised by a higher rate by the time your application process is complete. Some lenders charge a fee to lock in your rate. Your rate may still change if the information on your application or the size of your loan changes.
First-Time Home Buyer FAQs
How do I apply for a mortgage as a first-time home buyer?
For your first mortgage, look for a lender that gives you personal attention, guides you through the process, and provides access to programs, such as state down payment assistance. Once you find a lender, you can apply for your first mortgage the same as any other borrower. Just be sure to tell your lender you may qualify for first-time home buyer programs.
Can you consolidate debt into a first-time mortgage?
You generally cannot take out a home mortgage for more than the purchase price of the home, even if you get a good deal on the house. Therefore, you cannot use a purchase mortgage to consolidate other debts. However, after you have owned the home for a minimum period of time and the value goes up, you may be able to refinance and use your equity to consolidate debts.
How much deposit do I need for a first-time mortgage?
Some programs, such as FHA loans, let you purchase a home with as little as 3.5% down. If your state has first-time home buyer programs, you may even be able to buy a home with zero down. You still need cash on hand to pay for expenses such as an appraisal and closing costs. In addition, the more money you put down on a home, the less you'll pay in PMI and interest expense.
How much mortgage can I qualify for as a first-time buyer?
If you've built a good credit history and your finances are in good shape, being a first-time home buyer shouldn't limit how much you can borrow. You can use the Quicken Home Affordability Calculator to estimate how much house you can afford, based on the maximum mortgage you may qualify for. Or you can talk to a loan originator at your lender.
What is the average first-time buyer mortgage?
The size of mortgages nationwide is not tracked by whether the borrowers are first-time homebuyers. However, because FHA loans are so popular with first-time home buyers, the average size of an FHA loan is a good indication. For 2016, the average FHA loan was $190,000. Remember that housing prices and mortgages vary significantly throughout the country.
Can you get a first-time mortgage at 50?
Absolutely. In fact, you may have some advantages over people just starting out, such as a longer work and credit history, and perhaps a larger down payment. It's never too late to get your first mortgage, or the first home and
What's Next?
Becoming a homeowner is an exciting moment in many people's lives. Before making this major commitment, be sure to compare multiple lenders and explore which one offers the rates and terms that meet your individual needs. Not sure what to do next? Read lender reviews so you can apply for a mortgage loan with confidence.