Mortgage Rates Dip to Lowest Since Late-2016
The average 30-year fixed mortgage interest rate hit 3.73% at the end of June 2019, the lowest in more than 2-and-a-half years, and 121 basis points lower than the 12-month high of 4.94% in November 2018, according to Freddie Mac.
At the beginning of this year, it looked like rates would rise in 2019 and beyond. In its final decision last year, the Fed raised its benchmark interest rate from 2.25% to 2.50% and flagged the likelihood of 2 additional rate hikes in 2019. But the Fed put rate increases on hold, and later proposed up to 3 rate cuts by early-2020.
Members of the Federal Reserve's Open Market Committee meet 8 times each year to vote on the target federal funds rate. This rate correlates with the rate at which banks and credit unions lend money to each other to meet the Fed's reserve requirements. When the federal funds rate goes up, banks and other lenders pass the costs on to consumers through higher interest rates for mortgages, loans, and other forms of credit. When the federal funds rate goes down, or when expectations for a rate increase dissipate, this takes pressure off mortgage lenders, who respond by offering their customers lower rates.
Compare Our Top Lenders
Refinance loans approved in minutes
Online application available 24x7
Buying is Cheaper Now, Even in Hot Property Market
Finding an affordable home is a big deal for most buyers, but how many buyers worry about getting an affordable interest rate?
As the following table shows, movement in interest rates can make a difference to the total amount of interest a buyer pays a lender over the duration of a mortgage loan.
The median home value in the United States was $227,700 in June 2019, 5.2% up from a year earlier, according to Zillow. Thirty-year fixed rates fell 18% in the corresponding period, according to Freddie Mac. A person buying a house at the median national price in June 2019 would have paid $11,840 more than a person buying 12 months earlier, but would have reduced by $23,360 their future interest payment liabilities.
Home Buyers Are Better off Than a Year Ago
Average 30-year fixed rate
Sources: MortgageCalculator.org, Freddie Mac, Zillow. Assumes 20% down payment.
Excludes property tax, PMI, home insurance, and all other payments not factored into interest rate.
Of course, house prices aren't even across the board. In Hawaii the median home value is $614,000 and in California $547,500, while in West Virginia it is just $97,100. In Idaho and Utah, prices rose 15% and 10% respectively in the 12 months to June 2019. In California, Delaware, and Louisiana, prices rose just 1%.
Likewise, lenders don't all set the same rates and borrowers don't all qualify for the same rates. The average interest rate is just an average. But it pays to buy when average rates are low, and borrowers can earn themselves even better rates by shopping around between lenders.
Freddie Mac has predicted that lower mortgage rates—plus strengthening homebuilder confidence and an increase in housing permits—will translate to increased home sales. It anticipates that home sales will reverse the 2018 slump and come in stronger at 6.03 million in 2019 before surpassing 2017 levels and increasing to 6.19 million in 2020.
Millions of Homeowners Can Save By Refinancing
Prospective home buyers aren't the only people in a position to benefit from falling rates. According to Black Knight's latest Mortgage Monitor report, 8.2 million homeowners are now likely to qualify for a refinance that reduces their interest rate by at least 0.75%. This is the largest number of refinanceable borrowers since late 2016, the last time mortgage rates were as low as they are now.
There are now 6.3 million more refinance candidates than when rates peaked in November 2018. As of June 27, there were 1.5 million more refinance candidates than May's peak, leading Black Knight to predict that prepayment and refinance figures could continue to climb into the summer months.
More than 35% of all borrowers who took out their first mortgage in 2018 could now save at least 0.75% by refinancing. You don't have to be a long-time homeowner to consider refinancing.
Note: refinancing involves closing costs, so it makes sense to refinance if the new interest rate is substantially better than the old one. As a general rule, the more time that has passed since the start of a mortgage, the greater the gap in interest rates must be for a refinance to make sense. In the early years of a mortgage, a 0.75% lower interest rate could be enough to deliver savings. But as more of the mortgage gets paid off, the rate would need to be lower by 1% or even 2% for a refinance to make sense.
Our Top Lenders

Quicken offers a range of mortgage and refinancing loans, including reverse mortgages, specialist VA and USDA mortgages, refinancing options, and a unique YOURgage option. Quicken uses technology to guide borrowers and complete the loan approval process quickly. Quicken stands out for offering home equity loans for almost every scenario so that you can find a suitable home financing package.
Read the full QuickenLoans review
Quicken Loans View Rates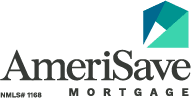 Based in Atlanta, Georgia, AmeriSave Mortgage Corporation has established itself as one of the premier names in the mortgage loans and refinancing industry. The company was established in 2002, and has since expanded its service to 49 states and the District of Columbia. Today, the company offers a quick and straightforward way for potential homeowners and prospective buyers to uncover the loans they need and access funds efficiently. AmeriSave has expanded to employ more than 500 mortgage specialists, and funds billions in home loans every year. Moreover, the company offers a wide variety of mortgage options, including conventional, jumbo, FHA, VA and USDA loans.
Read the full AmeriSave review

AmeriSave Mortgage View Rates
Better Mortgage Corporation is a direct lender that uses technology to provide a fast and transparent digital mortgage experience backed by customer support. It was founded in 2014 and is backed by big-name investors including Citi, Goldman Sachs, Kleiner Perkins, and American Express. To date, it has originated more than $2 billion in conventional mortgage loans.
Read the full Better.com review
View Rates
How to Secure the Best Mortgage APR as Rates Fall
Interest rates fluctuate. Nobody can say for certain what mortgage rates will look like in 6 months or a year, but evidence suggests they will keep going down.
Searching for a house and a mortgage at the same time can be a stressful experience. If you need more time to find the right house, the good news is some lenders let their customers lock in a pre-approved rate for up to 90 to 120 days. We used a mortgage calculator to compare 3.5% and 3.75% mortgage rates for a $225,000 purchase with 20% down payment. For a 30-year fixed mortgage, the lower rate would save you around $8,350 across the life of the loan.
Adjustable-rate mortgages offer lower interest rates than 30-year fixed-rate mortgages for an introductory period of 3 to 10 years (although not necessarily lower than a 15-year fixed mortgage). As an example, a 5/1 ARM refers to a loan where the rate is locked in for 5 years and adjusted every subsequent year for the duration of the loan. If mortgage rates are the same or lower at the end of the introductory period, you're in luck. If they're higher at the end of the period, you can expect to start paying more interest. If you believe you can pay off the loan early, an ARM might be the best option anyway.
With any lending product, the golden rule is to always shop around. Comparing 3-5 lenders is a great way of seeing what's available right now and what type of rate you specifically might qualify for.
Compare the top mortgage lenders to find the best rates for your home loan >>