Why Was HARP Created and What Does it Do?
The federal government created HARP in 2009 in response to the subprime mortgage crisis, which saw house prices crash and millions of homeowners go underwater. The Federal Housing Finance Agency (FHFA) administers the program, enabling lenders to offer underwater homeowners a refinancing option along similar lines to a regular refinance. HARP enables you to move to a shorter loan term and lower interest rate. If you use HARP to refinance, you're exempted from certain closing procedures and costs.
Who Can Qualify for HARP?
All good things must come to an end, and HARP's end date is December 31, 2023. According to the FHFA, only 49,000 homeowners are now eligible to apply for HARP before it closes for good at the end of this year.
The metropolitan statistical area (MSA) with the highest number of eligible homes is:
Chicago-Naperville-Elgin (IL-IN-WI), with 5,062 properties.

Philadelphia-Camden-Wilmington (PA-NJ-DE) with 3,166 properties

New York-Newark-Jersey City (NY-NJ-PA) with 2,859 properties.
Under the recently revised rules, homeowners who were previously rejected for a HARP loan may re-apply.
To Qualify for a HARP refinance, you must meet the following conditions:
The

loan must have

originated on or before May 31, 2009.

The

LTV (loan-to-value ratio) of the homeowner's existing mortgage must be greater than 80%, meaning the homeowner holds less than 20% of the equity in their home.

Must be current on mortgage payments, with no late payments (defined as 30 days overdue) in the past

6 months

and

no more than one late payment in the

past

year.

The home must be a

primary residence, a 1-unit second home, or a 1

-unit to 4-unit investment property.

The

loan must

be owned by Freddie Mac or Fannie Mae.

To find out if your loan is owned by one of these government-sponsored enterprises, check out

Freddie Mac's loan search tool

or

Fannie Mae's loan search tool

or call them on 800-7FANNIE or 800-FREDDIE between 8 am and 8 pm ET.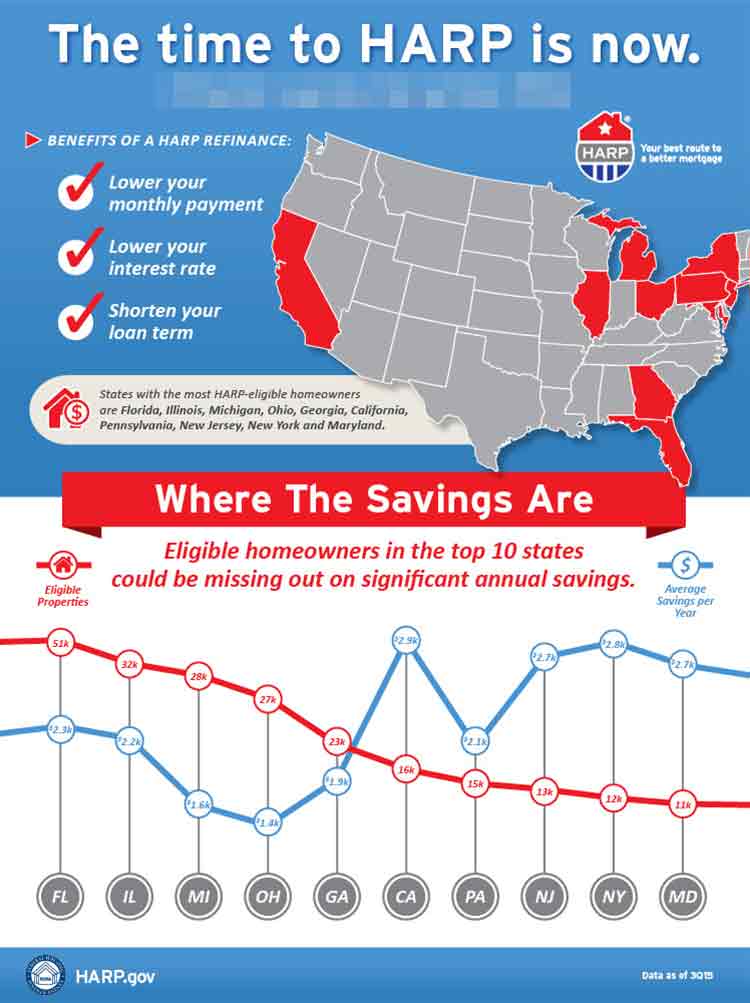 Which Program Will Replace HARP?
HARP will end when the clock strikes midnight on New Year's Eve, but its spirit will live on in the form of 2 new FHFA government programs: Fannie Mae's High Loan-to-Value Refinance Option and Freddie Mac's Enhanced Relief Refinance Program. Only existing Fannie Mae mortgages may be refinanced using the Fannie Mae HARP alternative and only existing Freddie Mac mortgages may be refinanced using the Freddie Mac HARP alternative.
What is the Difference Between These Options and HARP?
The eligibility requirements for the Fannie Mae and Freddie Mac programs are the same as for the HARP program, with the exception of the loan origination date and loan-to-value ratio. Only mortgages originating on or after October 1, 2017 may be refinanced using the Fannie Mae and Freddie Mac programs. In its later years, HARP was expanded to accept applications from all underwater homeowners, regardless of their LTV. But the Fannie Mae and Freddie Mac programs are open only to homeowners that meet the minimum LTV ratios outlined in the table below. For adjustable-rate mortgages, the maximum LTV ratio is 105.5%. For fixed-rate mortgages, there is no maximum LTV ratio.
Minimum Loan To Value Ratios
1 unit (including manufactured homes)
1 unit (including manufactured homes)
Are There Any Other HARP Alternatives?
If you can't get a regular refinance and aren't eligible for HARP or either of the new alternatives, you may be able to refinance through a government-backed FHA, VA, or USDA loan.
Only in rare cases would it be worth refinancing a conventional loan with an FHA, VA, or USDA loan, but it is possible. Borrowers with a conventional loan may refinance with an FHA loan if they have an LTV of up to 96.75% (or as little as 3.25% home equity). However, only borrowers with an existing FHA loan are eligible for an FHA streamline refinance (which exempts the borrower from undertaking a new home appraisal). Borrowers must meet the minimum military service requirements to qualify for a VA refinance, and must meet the U.S. Department of Agriculture's guidelines to qualify for a USDA refinance.
Ellie Mae's latest origination report compares conventional, FHA, and VA refinance loans by average credit score and LTV in September 2023.
Top 3 Refinance Lenders for HARP and Its Alternatives
The following lenders all work in underwriting HARP loans.
Lowest rates in market
Compare multiple HARP lenders
Pre-qualify for multiple lenders with one form
LendingTree's powerful search tool allows users to compare quotes from some of the nation's most-recognized lenders. Thanks to LendingTree, you can find out whether you qualify for a HARP loan, from which lenders, and at which rate. The service is free to use and it takes only 3 to 5 minutes to complete the online form and see results.

LendingTree Visit LendingTree
HARP specialist

Completely online application process

Strong customer service
Freedom Mortgage offers a wide range of mortgages and refinance loans, including HARP refinancing, to residents of all 50 states. Eligible homeowners can apply to Freedom Mortgage online, by phone, or, in 15 states, at a physical branch. Freedom Mortgage prides itself on its customer service, so don't be afraid to pick up the phone and ask one of its agents about HARP loans and alternatives.
Freedom Mortgage Visit Freedom Mortgage
One of nation's largest lenders

Proficient in government-backed loans

Streamlined application process
Quicken Loans is the largest lender for FHA loans, and also specializes in other government-backed loans and refinance loans. Thanks to its streamlined application process, homeowners can apply for a HARP refinance with a minimum amount of hassle. Quicken offers almost every type of loan imaginable, so you can be sure they'll be one of the first to offer the new Fannie Mae and Freddie Mac loans for underwater homeowners come the new year.
Quicken Loans Visit Quicken Loans
Summary
Whatever your LTV and credit score, refinancing can save you a lot of money. Fixed-rate mortgages are 25-30% cheaper on average in October 2018 than they were in October 2008, presenting a unique opportunity for homeowners to refinance their existing mortgage at a better rate. If you're underwater, you can use HARP or the new Fannie Mae or Freddie Mac alternatives to refinance along similar conditions to a conventional loan. Whether you're looking to refinance using HARP, another government-backed program, or a conventional loan, don't forget to check out our reviews for the nation's top refinance lenders here.